Conceived and designed with flexibility in mind, this stunning double-sided cast iron beauty is the perfect fire to divide and heat a large space. Extend the enjoyment of a beautiful, cosy log fire to more than one living space by placing it in the middle of a large room or position it in a wall between two rooms.
Featuring the characteristic double sided wood fireplace with dual opening door system. This superb Radiante 1200 panoramic wide double sided wood firebox offers both the enjoyment and ambience of a real open wood fire and the efficiency and safety of an efficient slow combustion fire.
The excellent efficiency and beautiful clean lines of this wood firebox make it perfect choice for today's large, contemporary open plan home or warehouse conversion.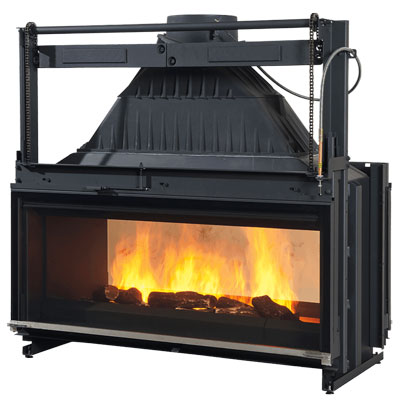 Features & Benefits
All double sided wood fireboxes designed and manufactured in France.
Reduced energy costs with excellent dual combustion heating system
Cast iron and steel construction with large panoramic vision glass door heat resistant to 800℃.
Double sided wood fireplaces with dual opening door mechanism – one side lifts vertically, both sides have forward tilting door
Estimated maximum heat output 280 square metres*
Total weight 276 kg
Flue size 250mm or 10"
EPA approved and Australian standards AS/NZS 4012/4013 (1999)
* Varies depending upon ceiling height, installation and place of construction.