Cheminees Philippe combines striking elegance and strong functionality with the charm of the Eden fireplace. A beautifully sculptured fireplace, its smooth, curved lines fits neatly against a wall or into a corner without dominating the décor.
The high pedestal accentuates the generously-designed glass window offering a perfect view of the fire. The option of an invisible rotating base allows you to turn the fire to a position that can be enjoyed from anywhere in the room, an ideal feature in an open area or between two spaces.
The Eden entices you to get cosy by the fire, with the excellent heating efficiency Cheminees Philippe is renowned for.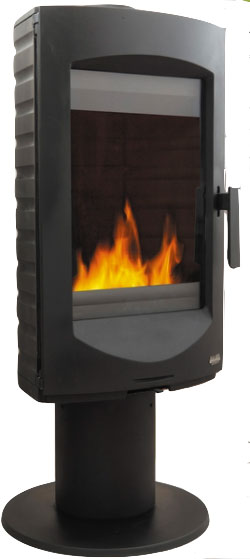 Features & Benefits
100% French made in Cheminees Philippe's foundry and manufacturing facility.
Firebox construction all cast iron with ceramic glass door heat resistant to 800℃
Total weight 199 kg
Flue size 150mm or 6"
Reduced energy costs with excellent dual combustion heating system
Estimated maximum heat output 150 sq metres*
Dual opening door mechanism – vertical and forward
Easy clean, removable ash pan
Optional 360 deg rotating base
EPA approved and Australian standards AS/NZS 4012/4013 (1999)
* Varies depending upon ceiling height, installation and place of construction.